automatic Jumbo Toilet Roll Rewinding Machine with Embossing
automatic Jumbo Toilet Roll Rewinding Machine with Embossing
Application
This ACE-IRM Automatic Jumbo Roll Tissue Machine For Toilet Paper With Embossing Perforation is with steel to rubber embossing unit and point to point deco lamination glue system. It is good quality high speed tissue converting machine to manufacture toilet paper, bathroom tissue, hygienic tissue, laminated kitchen towel rolls etc. It is with the out-of-date latest technology in tissue paper converting. It adopts vacuum folding style. The mainly function of this machine is to manufacture commercial tissue paper products and away-from-home tissue paper products, embossed and laminated toilet paper rolls and kitchen towels. It is an ideal equipment to manufacture high grade away-from-home customized embossed tissue rolls.
Advantage:
1 Machine for toilet paper and kitchen towel
2 With glue lamination unit.
3 Speed 250 m/min
4 Energy-saving.
5 Separate motor drive
6 With perforation system
Quick details:
1 Mother roll width 1200mm – 4000mm
2 Lamination system.
3 Embossing unit
4 Rewind and cut
5 Can connect to logsaw cutting machine

Technical parameters as below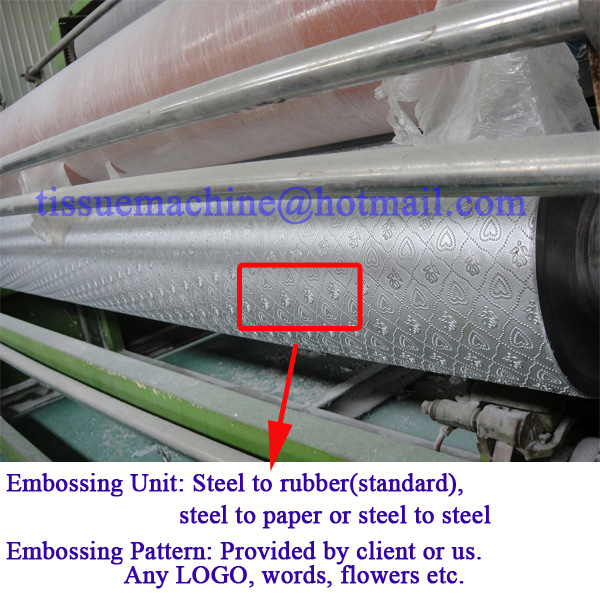 ACE-IRM

Output type

Mother roll width(mm)

1300

1800

2000

2200

2400

2600

2800

3000

4000

Customized

Mother roll diameter (mm)

Up to 2000mm or customized

Machine speed

250 m/min

Raw paper

13-20g/m2 2-ply, 16-45g/m2 1-ply, wooden pulp paper or MG paper or nonwoven airlaid.

Other sizes please specify.

Finished roll diameter

60-150mm.

Unwind section

a. With Two jumbo roll back stands.

b. Driven by separate reduction motors, not belts and chains.

c. Jumbo Roll diameter: Max. Ф1200mm (Other size, please specify).

d. Core diameter: Ф76mm.

e. Pneumatic loading jumbo rolls automatically.

f. With 2 sets of cone pulleys hand wheels to control jumbo roll web tension.(Electrical type is optional)

g. Synchronism paper feeding unit. With wide flat belts for feeding the jumbo roll.

h. With hand wheel for adjusting each jumbo roll to the left or right.(Electrical type is optional)

Rewind section

a. With core tank for automatic feeding paper cores.

b. Core diameter adjustable.

c. With automatic perforation system: Perforation size is adjustable.

d. Perforation system can be switched OFF or switched ON. Able to produce rolls with perforation and without perforation.

e. With automatic finished roll tail trimming and sealing system to seal the logs with straight glue lines.

f. It can convert 1 or 2plies jumbo roll of difference gsm paper.

g. With thickened floor standing wallboard structure to ensure high speed running no vibration.

Embossing section

a. With 2 sets of steel-to-rubber full embossing units. (Embossing pattern provided by the buyer or recommended by us.)

b. Controlled by level-type pneumatic cylinders copied Italy design. Most other companies' machines embossing units are controlled by screws or direct-pressing cylinders which make it very difficult to control the web tension and the paper will stick to the rollers, if you are not experienced enough, it will be big problem for you. They mostly put the embossing units on the steel frame, when the machine is running at high speed; it will definitely vibrate very much.

c. Embossing tension is adjustable.(Micro adjustment.) so that the machine can work with papers with different quality and different gsm.

d. Floor standing wallboard structure (thickened full steel plate support structure); to make sure the machine will NOT vibrate when running at high speed. Other companies adopt half steel frame for upper part and half steel part for lower parts, which is weak structure.

e. Crown on the embossing rolls.

f. Heavy chrome coating.

g. Famous brand bearings for embossing rolls, perforation rolls, etc.

Point to point Lamination system

a. With one complete sets of point to point lamination units.

b. The whole design is copied Italy design.

c. Heavy chrome coating roll

d. Micro-adjustment of nips between the steel roll

e. Anilox roll for glue applicant.

f. Controlled by cylinders

g. Each lamination unit controlled by an independent reducer. When the machine stops, the motor will start running to rotate the anilox roll to prevent it getting dry.

Tension control

Speedless Tension control unit to fit the machine for paper of different quaity and different gsm.

With automatic web guiding system.

With automatic web tension control system.

Counting

Automatic counting unit

Emergent stop

Emergent stop unit to inspect any paper breaks, paper jams.

Power

7.5Kw for main motor

(3-phase AC380V 50Hz or customized)

Machine size

6x2-405x2m

Weight

6T

Videos and photos available.

For more details, please kindly contact

Email: [email protected]

WhatsApp: 0086 1877 536 8277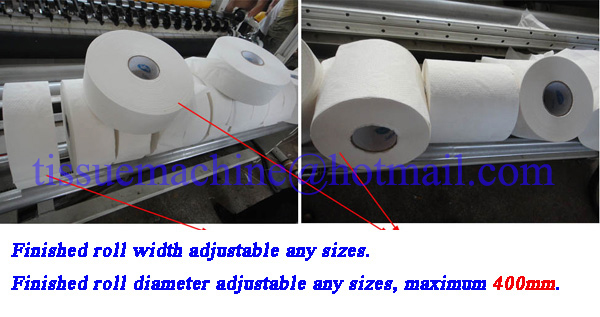 Products Category
Contact Us
Name: ACE MCAHINERY CHINA

Tel: +86-18775368277

Mobile: 008618775368277

E-mail: [email protected]

Skype: tissuemachine

QQ: 19346641

WeChat: 0018775368277

Whatsapp: 008618775368277

Add: Mintian Industrial Zone, Shatian, Dongguan, Guangdong, CHINA